Jay Martin
Market President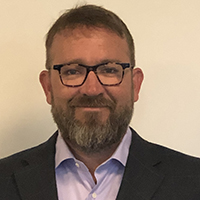 Jay Martin joined Mednax in 2018 and currently serves as Regional Vice President for the Mountain West region. He previously held various operations roles with Mednax from 2002 to 2014, including Director of Operations roles with both Pediatrix and American Anesthesiology.
Most recently, Mr. Martin served in senior executive roles for anesthesia and surgical services providers, including Vice President of Anesthesia Services for Surgical Care Affiliates, and CEO and COO of Resolute Anesthesia and Pain Solutions.
Mr. Martin holds a bachelor's degree in accounting from the University of Richmond (Richmond, Virginia). He also holds a master's degree in management with a focus on leadership from Nova Southeastern University (Fort Lauderdale, Florida).